ATTO offers businesses of all sizes an unparalleled range of storage infrastructure and connectivity solutions. From host bus adapters (HBAs) and Fibre Channel bridges to Storage Controllers and acceleration software, our products are designed to efficiently and cost-effectively help customers manage, store and deliver their data. Leveraging new storage architectures and transport protocols our products deliver blazing-fast performance, one-click installation and smooth data streaming.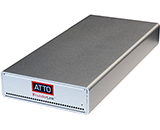 Faster, more powerful and reliable, with far more compatibility than any other Thunderbolt adapter, ATTO ThunderLink is made to support the work of creative pros. They're small and portable, easily stacked or rack-mounted with ATTO ThunderRack, they don't get in the way and with the included locking power supplies they're "oops" resistant.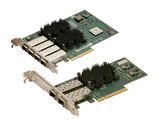 With support for 10/25/40/50/100GbE, ATTO FastFrame™ adapters provide the performance, features, and reliability needed to support the most demanding and complex IT ecosystems – from the core to the edges.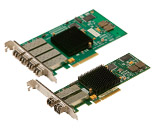 ATTO Celerity™ Fibre Channel host bus adapters (HBAs) deliver the fastest data throughput (both MB/s and IOPs) available for today's most demanding storage environments, including physical and virtual datacenters, tape streaming and backup, rich content delivery, and server clustering.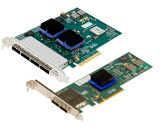 ATTO ExpressSAS® SAS/SATA Host Bus Adapters (HBAs) provide high-performance data protection to direct-attached SAS and SATA storage. ExpressSAS HBAs are ideal for increased connectivity and maximum performance for data center flexibility.